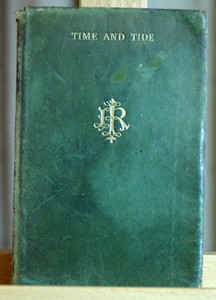 Time and Tide, By Weare and Tyne: Twenty-Five Letters to a Working Man of Sunderland on the Laws of Work
by John Ruskin, 195 pages
In this collection of his correspondence with a working class admirer, Ruskin summarizes and continues the social teaching he previously expounded in
Munera Pulveris
and
Sesame and Lilies
, while pulling in ideas he developed in works such as
The Stones of Venice
. A large part of Ruskin's appeal lies in precisely this comprehensive consistency, uniting ethics, economics, and aesthetics.
Time and Tide
calls for a comprehensive reform of society, beginning at the bottom. As always, Ruskin's central concern is to guard against the emergence of a mass society, and he is equally opposed to mass production and mass democracy.
There is much in Time and Tide that is rationally prescriptive and therefore entirely inorganic and ultimately impractical - Ruskin himself concedes it is "too large to receive at present any deliberate execution" and denies that he maintains "any idea of its appearing, to our present public mind, practicable even at a remote period." Taken at a slight distance, however, in the same light as Plato's Republic, there is a great deal of value in Ruskin's criticisms. The epistolary nature of the book allows the author to range freely over a wide variety of topics but also results in him changing subjects haphazardly. The end product is sometimes frustrating, often charming, and frequently insightful.