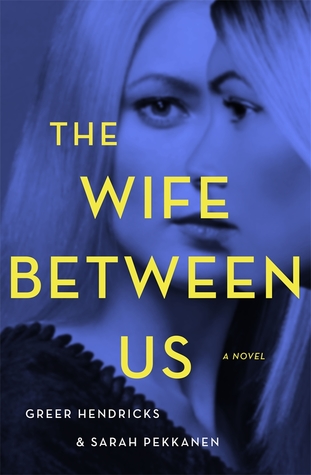 The Wife Between Us by Greer Hendricks and Sarah Pekkanen. 343 pages. Due out 1/9/2018 (I read a galley)
"
When you read this book, you will make many assumptions.
You will assume you are reading about a jealous wife and her obsession with her replacement.
You will assume you are reading about a woman about to enter a new marriage with the man she loves.
You will assume the first wife was a disaster and that the husband was well rid of her.
You will assume you know the motives, the history, the anatomy of the relationships.
Assume nothing."
summary courtesy of Goodreads
This book is tricky to summarize because I don't want to give anything away. However, it's easy to start reading this and make assumptions about the main character and the plotline. You start thinking, I've read this story before. First wife gets dumped for new wife, develops obsession and stalks new wife. Well, kind of . . . but not quite.
I liked how the authors create a story where you think you know where you're going and then suddenly, you're on a different track. You're drawn to a story where the main character is someone you can easily picture, and maybe even identify with a little bit and then before you know it, you're startled to find out that she's not necessarily who you thought she was. And neither is the husband. This is a novel of psychological suspense with a steadily increasing pace -- I found myself turning the pages faster and faster (and would sneak in extra reading when I had time, just so I could keep going with the story). This is a well-crafted story that also makes you think -- about relationships, how people change for someone they love, and how it's easy to get caught up in something and not realize that you're trapped until it's too late. Great story and an engrossing, entertaining read.